Real-Time 3D Space Flight experience with Planetarium Presentation
T
he published Shira Universe software is developed based on Japan National Observatory (NAOJ)  Four-Diamensional Digital (4D2U) Project (http://4d2u.nao.ac.jp/) of Mitaka software which has MIT license. 
The Shira Universe 1.0 includes all of 1.3.0 version of the Mitaka software features. For detailed information about Mitaka http://4d2u.nao.ac.jp/html/program/mitaka/index_E.html
The Shira Universe (SU, as shortly) is a specific version for planetarium use only. It is aimed to facilitate of presentation of planetarium.
Benefits of Shira Universe
* Useful Console Manager
The SU has splitted and advenced screen console to control projection screen. Nearly all visual controls have fade on/off effect.  Below screenshots are taken while Sky Manager Display Settings window is opened. There are enough controls in the "Sky Manager - Display settings" window.
Shira Universe Main Control Console with preivew screen

Fisheye Projection
Spherical Projection
Hakoniwa Calibration System single cove projector projection
*Preview Screen Support
The SU has Preview Screen in the Console Window. With Preview Screen window you can change sky object's view and positions by left mouse or direction keys in keyboard, easily.
*Advanced Location, DateTime  & Landscape Settings Window
The SU has new properties as Location and Landscape settings. Easily change landscape and location on the Earth surface by mouse. ShiraPlayer landscape files can also be used in SU.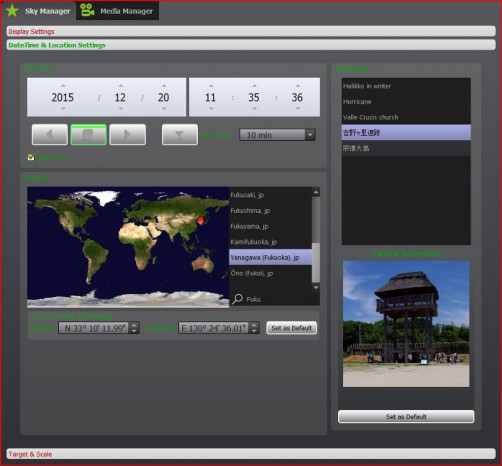 *Target &Scale Window
There is a search text bar in Target & Scale Window manager. With this text bar space objects registered in the software can easliy be found and moved to there. Also there is a "Scale" group frame includes buttons having feature of earth centric scale.  It has distant from 1.000 km to 10 billion ligth-years.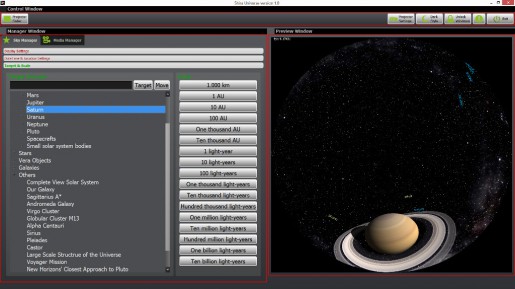 *Media Manager Window
Fulldome/Domemaster Video Manager
The SU has enhanced video play capacity. The video player base can play up to 3K videos that appropriate encodes by Shira Encoder without lossless frame. For detailed information please read ShiraPlayer fulldome video module.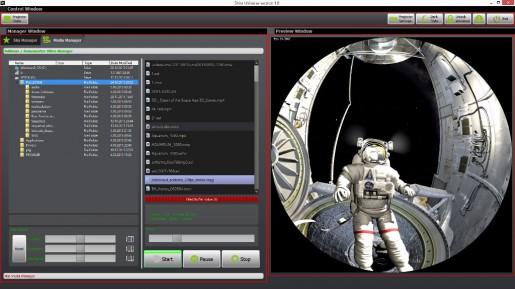 *3D Constellation Art Images
The SU has 3D Constellation vector images with color settings.
*Different projection support.
The SU has single and multiple projection support.  Below list is projection types
Single Fisheye projection

Single spherical distortion  projection (using Paul Bourke's custom data files)

Multiple projector using Hakoniwa Calibration system projection  ( 1- 3 projector)

Multiple projector using Vioso Calibration system (1-12 projector)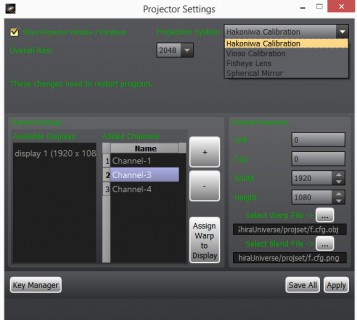 *Dark Style support for planetarium enviroment
The SU has Dark Style for console windows to use it in planetarium dark enviroment easliy.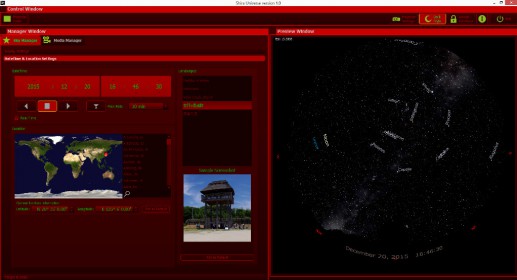 *System Requirements
O.S:

Windows XP/ 7/8.1/10; 64 bit

Processor:

Intel Core i7 minimum 64 bit arch.

Graphics Card:

NVIDIA/Quadro series or ATI Radeon/FireGL series graphics card with 1GB/2GB memory for best performance.

 
*Download and Test
Please read this page before download.

*License Policy.
Mitaka (4D2U ) software is opensorce with MIT license. Shira Universe can use as free with watermark on projection screen.  If you want to use without watermark please contact us.
*Earth,Mars and Moon topology support
The SU has capable show smooth topological data alternaively from Mitaka. You can download "ShiraUniverseTopoPack" and install over ShiraUniverse to show standart Earth Mars and Moon topological datas. In addition High res Moon data exist below link. You can download it and extract in "data" directory of Shira Universe.
http://4d2u.nao.ac.jp/html/program/mitaka/software/moon_topo_hr.zip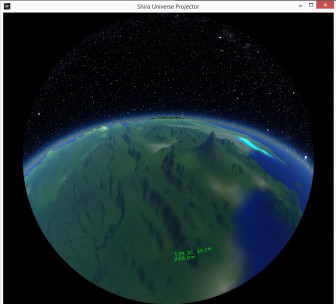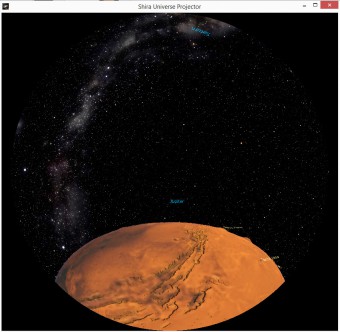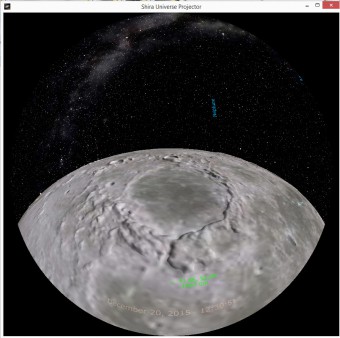 *Road Map
Below list features are planned to develop in next versions.
Flat image and video player

Detailed constellation manager

Audio play manager

Sky writer feature

illumination controls, Star trails 

Script base development

Another languages support

And more features...