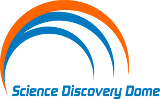 Science Discovery Dome is a Portable Planetarium and Science Education Dome .
They bring their dome to your school or organisation, and using a combination of immersive fulldome digital projections and fulldome movies, they teach a variety of Earth and Space Science subjects. Their presenter, Nicholas Burbush, is an experienced and qualified Science and Geography Teacher, who has been presenting Science Education Incursions for over six years.
Nick choose to use Shira Player for his dome presentations.
To wish him success.
http://www.sciencediscoverydome.com.au/
https://www.facebook.com/sciencediscoverydome