Shira Player Console 1.3 version
Details
New version Android console application highlights are below
Constellation Manager 

Audio Manager

New Stella features control

Landscape manager

Planet zoom manager

Star Trails

Dome Orientation selection

Illumination Control Window

And more controls

Fixed bugs.
You can install your android tablet from Google Play store.
https://play.google.com/store/apps/details?id=org.sureyyasoft.shiraplayer
Warning : 1.3 version is compatible to Shira Player desktop 2.1 and up versions.
ShiraPlayer Console 1.2 version is released.
Details
"Flyby Planets" and "Messier Catalog" Feature console operations were added. Also some bugs fixed.
Done restricted screen as landscape orientation.
ShiraPlayer Console and 1.8.0.2 Desktop is published
Details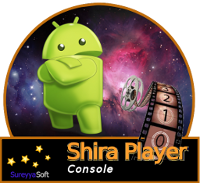 S
hiraPlayer Console software is developed for desktop applications of ShiraPlayer to manage from Android Tablet device. The console application will greatly simplify the planetarium presentations.
You can find all functions of ShiraPlayer desktop's control interface in Console application.
"ShiraPlayer Console" requires Intranet access to control desktop application. It uses simple TCP connection.It does not require internet access for normal usage. Internet access is only required initially to verify the license.
.........