Shira Universe 3.0 is published with new fantastic features.
GLSL stands for openGL Shading Language, which is the specific standard of shader programs. Now Shira Universe can interpreter shader codes, fastly. About 130 shader in different catageries codes are added to the "ShaderDome" feature. Users can add own shader code or change existings in this directory and watch them on the dome. These shader codes were converted for dome projection from "https://www.shadertoy.com/" site which includes many shader codes have "Creative Commons Attribution-NonCommercial" licensees.
Warning: The shader dome feature requires 3.0 and over OpenGL support so display cards have to be high level. 
To show compiled shader codes :
- Click and open "Shader Dome" tab on the main screen.
- Select a category from left "Shader Browser" frame.  
- Select a shader from "Shaders" window. 
- Click "Load Selected" left top button and click its near run button.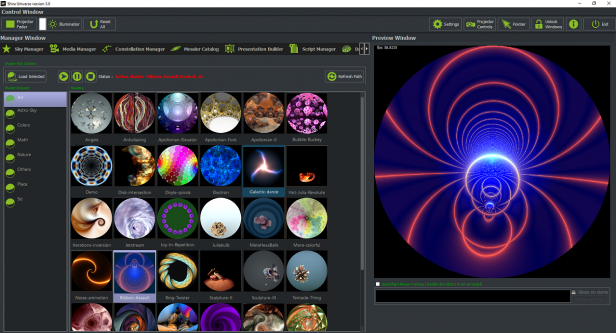 Now, Shira Universe has capability to show "Artificial Satellites" with their orbits on landing and space flight mode. Also it can show their 3D models on the space flight mode.
Users can change selected Artificial Satellites list on the "Target and Scale" window. Artificial Satellite TLE datas can be update on settings window. To use this feature it is required active internet connection.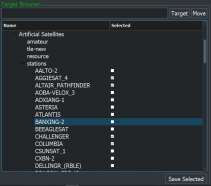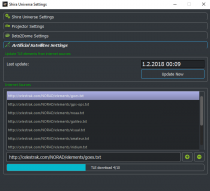 110 Messiers images taken high resolution photos from "Hubble Space Telescope" were added in "Messier Catalog" window. Shira Universe can show objects on the dome with animated effects. In addition "Point on Sky" button lets to show each object real position on the sky.  "Mix with background" checkbox lets object image to mix sky image. "HideAll" button lets remove all shown objects.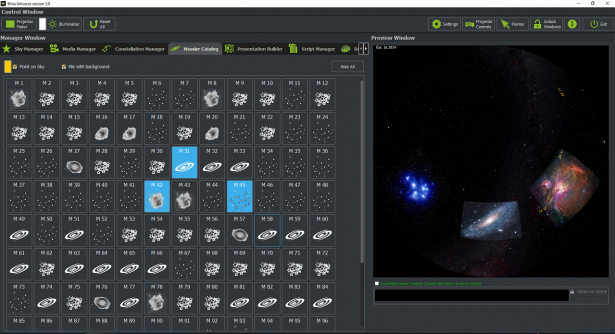 * Shira Colored 3D Constellations
Added Colorized Shira constellation image packages to Shira Universe.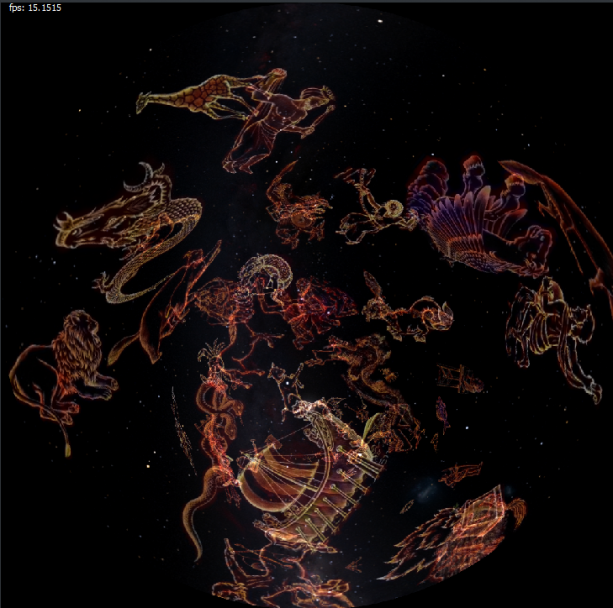 * Show Pointer on the Dome
Now users to point out any sky object on the dome like a mouse cursor.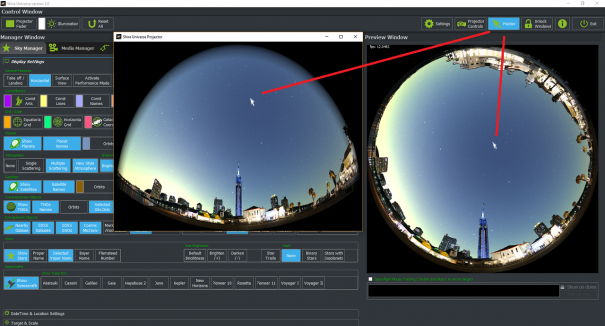 * User interface style is updated.
New user interface style is more avalibale for dark sides planetariums and so more user firends.
- Planets name not shown, fixed.
- Accelerated change to performans mode.
- Line styles fixed
- Satellites labels not shown on landing modes, fixed.
- Intializing buttons status fixed.