Fulldome Producer Feature
Now Shira Universe users can produce fulldome content for use as footages or for save&show again their presentations. The recording format is image sequence Jpeg or Png format.
In addition If you wish, you can save your script presentations as an image sequence. You can convert the image sequence to video using "Shira Encoder" or a third party tool (etc. Adobe After Effect).

Warning : Those who have already bought and demonstrated "Shira Universe" must complete apply form and send it to NAOJ.
However, if the licensed users produced videos for commerical, they should obtain permission for each video from NAOJ by completing below link form.
https://4d2u.nao.ac.jp/english/index.html#notice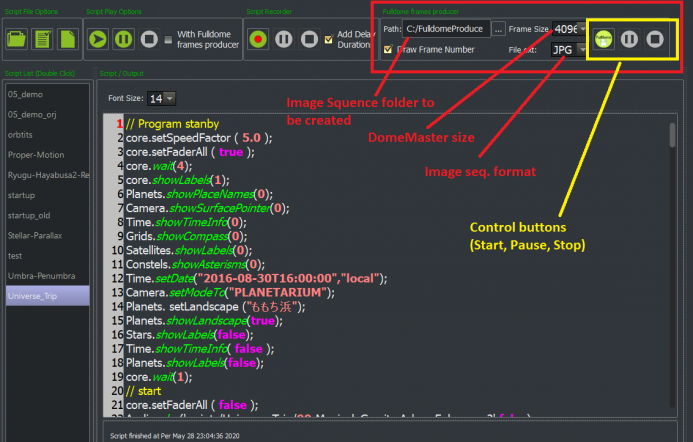 Other developments and fixes.
- Added "show astersim" check box on constellation manager.
- Expanded "Planet Zoom" option from three to five.
- Planet Zoom operation is provided to be animated.
- Added "Classical view" option for grid lines.(Confiure it on the Settings window)
- Added some new script commands
- Fixed some bugs
--Sun glare near view problem is fixed.
--Constellation images over lines problem is fixed.