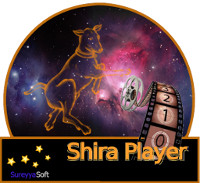 I
n this version many bugs are fixed. The Shira Player is based on Qt (Digia Company) libraries. Up to 1.8.0.0 version all ShiraPlayer versions used Qt 4.6.2 .Some problems were experienced on new operation systems (like windows 8.1) and on new display cards. These problems have been fixed after upgraded to Qt 5.3.
Below list includes all fix and development with this upgrade.    
-- Upgraded Qt base library from 4.6.2 to 5.3 version.
-- Fixed seeking problems on some audio codecs.
-- Flat video presenter loop mistake is fixed.(it was working checked or not)
-- Flat video presenter removed unused buttons in Video Control tab.
-- Media manager window min height is reduced to 500 from 640.
-- Flat presentations icons messages are fixed, tooltips and captions added
-- Added "Fade Duration" spinbox and "Crossfade" checkbox to Fisheye Image Window
-- On Fisheye Image Window "Clear Button" is provided with Fade effects
-- Fixed show FPS function (sometimes was not working)
-- Added save Fulldome Video and Fisheye Image windows checkboxes last states in config.
-- Added atmosphere,ground& fog buttons on stella window.
-- Fixed Satellites loading state.
-- Fixed goto feature to planet satellites
-- Added new splash screen,desktop icon and setup interface
-- Fixed flat media save presentations problems
-- Fixed projector screen-top setting save feature. - fixed without crossfade effect.
-- Fixed 'sn.' to 'sec'
-- Fixed , although "Show Ground" flag was not checked, after clear frames
was displaying landscape.
-- Fixed blank screen problem ( after flat video playing to play fisheye video)
-- Fixed, changing landscape strange behavior of datetime.
-- Fixed, satellite plugin select. Remove warning message.
-- Fixed, flat presentation mapping problem. Now iit is mapping correctly.