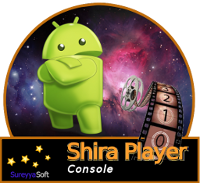 S
hiraPlayer Console software is developed for desktop applications of ShiraPlayer to manage from Android Tablet device. The console application will greatly simplify the planetarium presentations.
You can find all functions of ShiraPlayer desktop's control interface in Console application.
"ShiraPlayer Console" requires Intranet access to control desktop application. It uses simple TCP connection.It does not require internet access for normal usage. Internet access is only required initially to verify the license.
Warning : To run ShiraPlayer Console application, license of desktop application of ShiraPlayer is not necessary.
however while connecting to desktop, logo shown on projector screen. Also, it needs ShiraPlayer 1.8.0.2 or up.
How to Connect from Tablet to ShiraPlayer Desktop app.
Downlaod ShiraPlayer 1.8.0.2 Win32 MS Windows version or above version.

Run ShiraPlayer and allow application to access network. (image taken from a MS Windows 7 PC)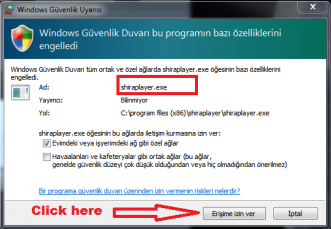 Download and install ShiraPlayer Console from "Google Play" and run it. There are two version of it. paid and free version.

https://play.google.com/store/apps/details?id=org.sureyyasoft.shiraplayer

https://play.google.com/store/apps/details?id=org.sureyyasoft.shiraplayerfree

Set "Network address" that running ShiaPlayer computer IP address.

Click Connect button.