The ShiraPlayer 1.8.5 version has publised with new "Flyby over Planets feature". In this version you will be able to closely examine the planet, track over them. The altitude and velocity properties are made adjustable.
You will be able to visit all the planets of the solar system with more realistic simulation. Installation package includes some 4K planetary images. The Mars and earth model has simple atmosphere effect. The docking feature has been added to the controls of "Preview window". In addition some bugs reported by users are fixed.
New Developments
- Flyby over planets

- Preview Controls docking properties

- Added Preview Window and exit shortcuts to Right click menu 

- Added "Skip Next Frame" property to Fulldome media manager.
Bug Fixes
- While searching Messier objects, some objects could not selected on Projector screen, fixed.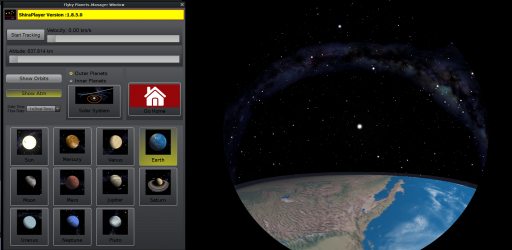 Sample image and video about "Flyby Feature" 
License Policy
List of modules that need license to use without watermark is below:
Fulldome Video Playback Manager
Flat Screen Playback Module
Record Manager Module
Sky Writer Feature
Fine-Tune Distortion Tool
From ShiraPlayer Console connect

Flyby Planets Module (NEW)
Download
To download please click this link to register to site. 
Buy Licence
To use Licensed Modules without watermark buy 790$ one user licence Fee