Entrepreneur of the Year
Details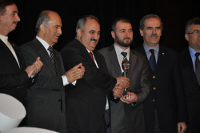 In 2011 the company as a partner won the prize that "Entrepreneur of the Year".
Between 2006 and 2011 he developed first homemade planetarium software and hardware of Turkey with result of extensive studies. These systems were established in "Science and Education Center of Municipality Yildirim Bursa,Turkey " which was 13 meter diameter dome.
.........
Shira Player 1.4.0
Details
Now it is easy to show flat movies and images presentation on dome as warped with "Flat Media Presentation" specification of Shira Player.
Key innovations:
To present more than one flat movies and images on dome 
Capability of adjusting color specification of flat videos on dome. 
To decode enough media format.
to recognize image formats: jpg,png,bmp 
to recognize video formats: avi,mpeg,mpg,mp4,wmv,mov,flv,vob (using ffmpeg codec)
 Resize and Rotate media
 Declination and Right Angle adjustment
 Presenting media On Dome/On Sky properties